GameZnFlix Video Game Rentals - GameznFlix Free Trial
Online video game rental services like GameznFlix are growing more popular by the minute, because of the many advantages compared to renting locally or buying games. With GameznFlix, it is extremely easy to rent video games online, and it's also really convenient, cost effective, and a great way to try tons of games.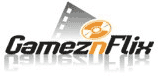 UPDATE: Gameznflix discontinued their online DVD and video game rental service in November 2008. We recommend going with GameFly to rent games online, as they are the leader in the field. If you rent movies as well, you're probably best off subscribing to GameFly and to Metflix so you can enjoy the best available service for videogames and DVDs.
GameZnFlix Video Game Rental Service
Most online rental services offer either video games or DVD movies. If you want both, you have to subscribe to two services. A much cheaper solution is to join GameznFlix, an online rental service that offers both DVD movies and video games.
For video game fans, GameznFlix rents video games for PlayStation, PlayStation 2, Sony PSP, XBox, XBox 360 and Nintendo GameCube. So all the popular home video game console systems are covered.
Movie fans are totally set as well, because Gamez n Flix has over 50,000 titles available. They have tons of movies in just about every genre, from action movies to romance films and everything in between. Plus they have the latest high def technology covered, with Blu-Ray and HD-DVD discs available.
It is really easy to use GameznFlix. In short, you just pick out the games and dvd movies you want and they send them to you. You can keep them as long as you want, since there are no due dates or late fees. When you are done, return them to GameZ n Flix using pre-paid mailers they provide. (That's right, shipping is free both ways!)
And GameznFlix.com is really reasonably priced. All subscription plans allow you to rent all the movies and games you want, but the limit is how many you have out at a time. There is a value plan that allows 1-out at a time for only $8.99/month. For 2 or 3 out at a time, choose the $12.99 or $16.99 per month plans. If you want a ton of movies and games, go for the Super Value plan that allows you to have up to 6 games/DVDs at once.
GameznFlix offers a 2 week free trial, so you can get started for free. Discover just how easy and fun this service is with the GameZnFlix Video Game Rental Free Trial.
For more information, all the details, to start your free trial, and to join the Gamez n Flix service, click to go to GameznFlix.com.
Read GameZnFlix Reviews – Submit a GameZnFlix Review, Rating or Comment.
---
Other video game rental services include G Play, Game Fly and DVDAvenue.
If you want to browse by platform or want to buy video games instead of renting, we provide pages to buy xbox games, buy playstation 2 games, buy nintendo gamecube games, and buy game boy advance games.
Thank you for using AllGameRentals.com for information on GameznFlix. Please bookmark our site and tell your friends about us.